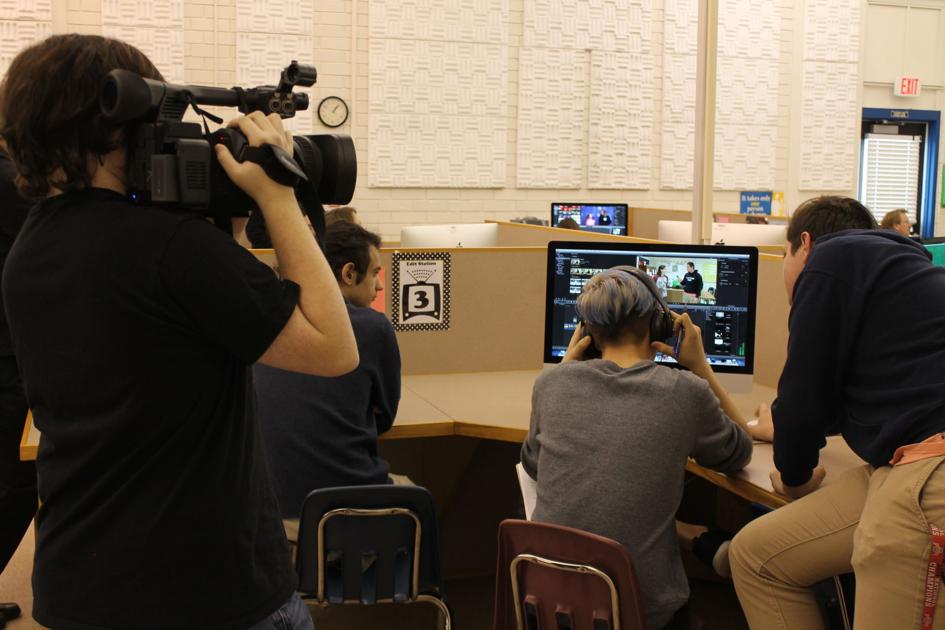 Apple visits Etowah High, talks about audiovisual media | Education
[ad_1]
Apple Inc. selected Etowah High School for a technology and educational showcase last Monday that selected educators from the metro Atlanta area were invited to attend. Students in the News Class gave presentations on their roles, responsibilities and experiences inside and outside the classroom.
Apple rep Tim David visited the classes of Etowah High School teacher Linda Yunker throughout the day.
"At the end of Mr. David's speech he said, 'If you do this now, you are going to be beyond what you need to be in college'. They're learning the real life skills here and he's solidified that, "Yunker said. "It's good for them to interact with people other than the kids in the classroom; they're industry adults and other teachers, "Yunker said.
Davis led a conference on broadcast video production in Final Cup Pro in the broadcast video production lab in Etowah.
"It's good for them and it makes them discover real situations. These seniors will be in the real world in a few months, "Yunker said. "We do higher level thinking skills. These students create, think, make a video and it's not just "OK, go ahead". Those who take things out of it put something in it. "
David discussed general media topics with Yunker's introductory class and mobile movie making with his news class.
"I have kids who work with Jumbotrons and sports trainer cameras; they are remunerated. They start in the Stream team, we do video streaming, which is a good experience for them, "Yunker said.
Yunker explained that Etowah High School has a partnership with ET Booth Middle School, which helps develop the video program. ET Booth students can start learning how the equipment works to move forward in tech-driven high school classrooms like Yunker's.
"When they came in the fall, they knew what they were doing. It's really cool, "she said.
Two of his students, Jacob Adams and Erin Walsh, were by-products of this school-to-school partnership.
"At Booth we started in grade six and over the last three years we've had a lot of changes with a new tech teacher, a grant, and learned to broadcast for a morning news show. When we got to Etowah we started playing football, "Adams said, adding that they had visited Etowah and had been matched with Yunker's class in middle school.
Yunker showed Apple reps and guests from Atlanta how his class is organized with producers, video interns, and the Stream team.
"Our news class is always very busy, but that gives me a lot of relief. With the way it works, with these kids in charge of their own groups; it works and they stay there with the critics, "she said of her four news producers. "It's a student-led class. They learn leadership skills. It took years to get to this, this sort of thing doesn't happen overnight, but it does work.
Students in Yunker's classroom move from the Stream team to paid positions within the Jumbotron crew, which helps them learn technology outside of the classroom and gives them responsibilities. The football stream is shown at restaurants in the community, including Game Day and Canyons Burgers.
"Not only was I able to use a different technology that I had never used before, but I was able to work in an environment that I had never been in," said Nick Pawlenko, senior, of the passage. from the Stream team to the Jumbotron team. "It was a great learning experience and it taught me a lot about being part of a production group. It was fun."
Senior Josh Downen, who works as a producer and video intern, said their classroom functions much like a newsroom. The producers are on the student reports, which are featured on Etowah Eagle TV.
"It takes a lot of organization, but that's the way the class is organized," he said. "We have a sort of chain of command: everyone is responsible for writing their own story, but when it comes to who edits, who films, the organization and where they shoot, it all depends on them. Everything is approved by Yunker or by a producer.
Downen explained to the guests how the video internship program is part of the work-based learning program at Etowah.
"After the 5th period we are off work, but instead of leaving and going to our work, we stay here in the 6th and 7th periods to work on projects for Yunker, the county and the community," he said. he declared. "This year we made a fundraising video for some of the local firefighters called 'Give Burns the Boot'. We make videos for the consulting service and every year we do "Operation Graduation". It teaches us the real world video production app. The internship teaches you a crazy amount of organization. This gives us a huge advantage for the news.
The representative and guests debriefed over lunch at the Etowah East Global Learning Lab.
[ad_2]