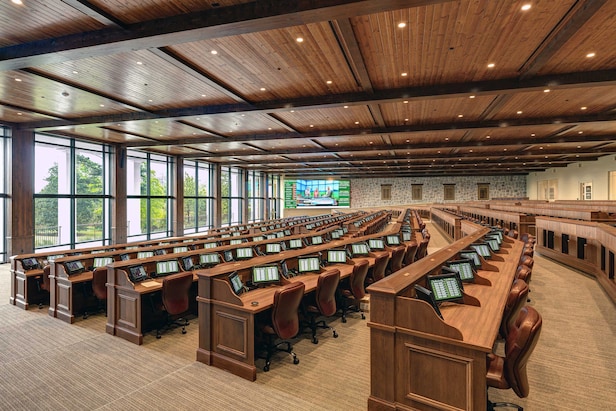 Augusta National's New Media Center Could Be the Most Beautiful Media Center | This is the loop
[ad_1]
AUGUSTA, GA. – There's the state of the art, and then there's what the Augusta National Golf Club opened on Sunday: a new two-story press center that could be the envy of any sporting event. annually in the country.
Located at the western end of the tournament training ground, the two-story facility (built from start to finish after the game ended a year ago) looks like a stately southern mansion from the outside, with a stone facade and covered porches. Inside, it has all modern conveniences.
On Sunday, you might find more members of the media wandering around to figure out the lay of the land after spending the past 26 years at a facility adjacent to the first hole. This building replaced the now quaint Quonset Hut, where reporters told stories on typewriters and helped create the Masters' early traditions.
The club did not have official figures on the size of the new facility or its cost, with Augusta National President Billy Payne scheduled to comment on the building at its annual press conference on Wednesday.
Suffice it to say, however, that no expense seems to have been spared in building the facility, as you can see for yourself:
All photos courtesy of Augusta National Golf Club
The formal entrance to the building.
Media check-in on the first floor before proceeding to the working press room on the second floor.
Each press room desk has its own TV screen and time computer, with wired internet access.
The Interview Room, where players will meet the media during the week, has individual desks with microphones for everyone to ask questions.
The formal dining room serves breakfast and lunch.
Outdoor dining areas are also available.
And there is a lounge for tired journalists to relax.
There are also separate studios for photographers, TV rooms, radio studios, sound booths for podcasts, and changing rooms. Basically, they've got it covered.
It makes you want to take the Masters again, doesn't it?
[ad_2]