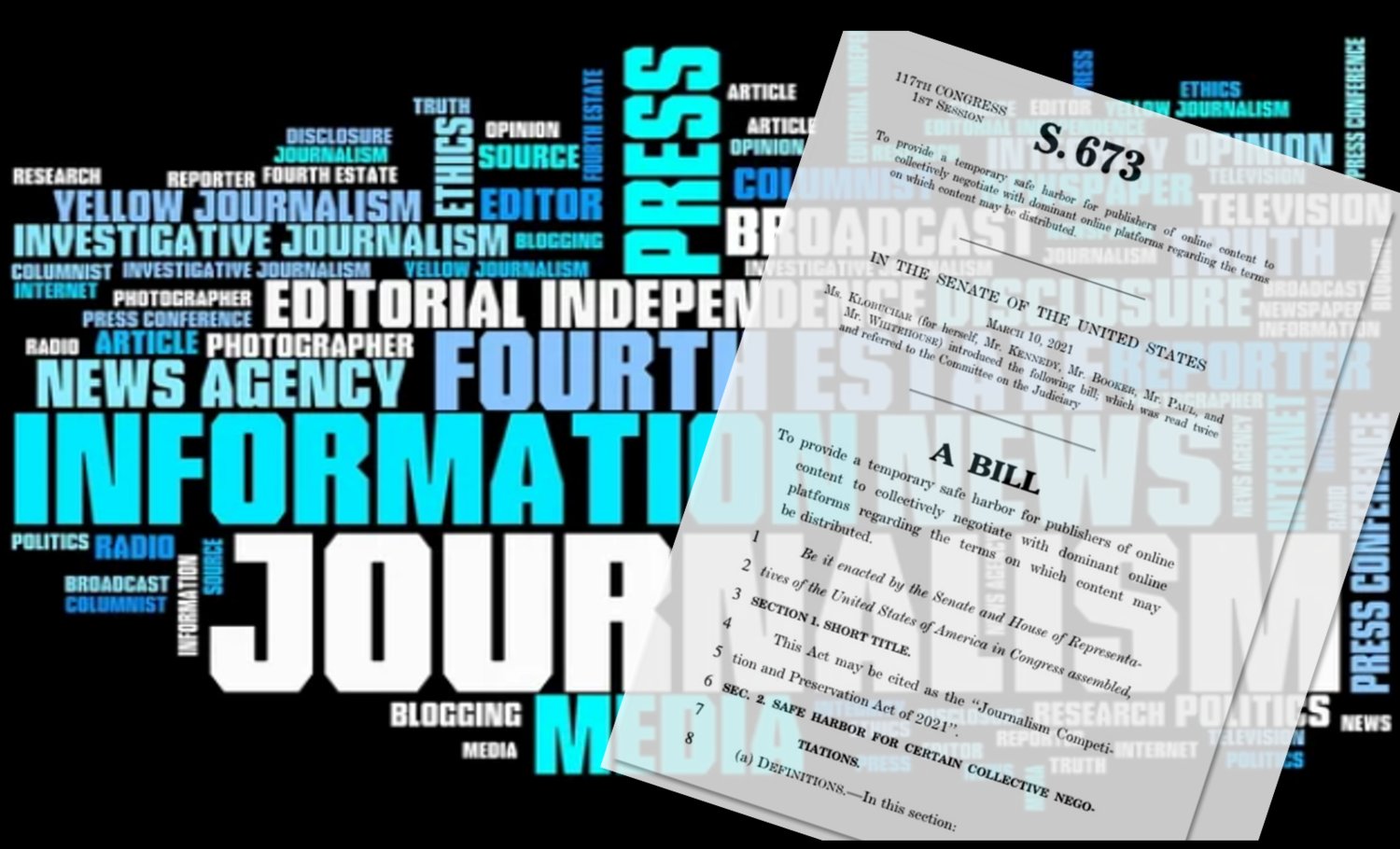 Bill seeks to compensate small media with Big Tech profits
Alyssa Choiniere | for editor and editor
A bill allowing small local media outlets to negotiate a reduction in profits generated when their content is distributed on social media and search engines is on the Senate agenda next week.
The Journalism Compensation and Preservation Act (JCPA) provides a safe harbor for small media companies to collectively negotiate terms with online content distributors, such as Facebook and Google, for the distribution of their work. The bill is expected to go to the Senate Judiciary Committee for tagging in September after the recess.
"Big Tech keeps most of the profits without work. It's fundamentally unfair," said Chris Reen, president and CEO of Clarity Media Group and publisher of The Denver Gazette and The Colorado Springs Gazette.
Reen said Big Tech companies collect 70% of the profits generated from the distribution of digital content from local news outlets. He spoke at an August 24 press briefing hosted by the News/Media Alliance, which champions the bill.
"Passing this bipartisan legislation will be transformative for our industry and absolutely essential for the survival of local news," Reen said.
He said two local newspapers die every week and 70 million Americans live in an information desert or an area at risk of becoming an information desert.
"As Google and Facebook rake in billions of dollars in advertising revenue, small, local, independent media companies like ours that support the quality content that powers these platforms have to fight for crumbs," he said. .
Danielle Coffey, Executive Vice President and General Counsel of the News/Media Alliance
Danielle Coffey, executive vice president and general counsel of the News/Media Alliance, said signing the bill likely won't resurrect shuttered newspapers, but it would be a boon for journalists, media outlets and communities.
"What I see is an increase in reporting, newsgathering and delivery of digital content where there is a real revenue stream and reward for investing in that journalism. Where there are already papers, otherwise seven days [a week], they will become thicker. Journalists will again appear at public meetings. They will cover the things that need to be covered in these communities," she said.
Coffey said the bill was first introduced four years ago in a majority Republican Senate and now has 80 sponsors in both houses. In addition, 215 outside organizations and advocacy groups also support him.
"Our greatest enemy is the clock," she said, adding that the organization was working to push the bill through working sessions and on the Senate floor.
She said four revisions have recently been made that will strengthen the bill. This included refocusing on small and medium-sized newspaper companies by limiting its provisions to organizations with 1,500 or fewer employees.
"With these improvements, we've garnered tremendous bipartisan support for the legislation as it moves through Congress," she said.
The bill was modeled after a similar law passed in Australia. Coffey said media companies (in Australia) were receiving payments from big tech companies that would amount to billions of dollars in revenue being redirected to smaller US media outlets.
She described the payments as "transformative income".
According to a survey of 1,000 adults by Schoen Cooperman Research, the bill also enjoys broad support among Americans.
Doug Schoen, Founder and Partner, Schoen Cooperman Research
"This is one of those rare issues – the JCPA – that brings together Americans of all ideologies, political parties, demographic groups, regions of the country to support fair and reasonable compensation for local media," said Doug Schoen. , the founder of the research group. and partner.
The survey said 70% of those polled gave "full support" to the bill, with 12% saying they were totally opposed and 18% offering no opinion. Sixty-four percent of those polled said it was important for Congress to pass the bill and 45% said they were more likely to support a candidate who supports the measure. Eleven percent of respondents said they would be less likely to support a candidate who supports the measure.
"The JCPA was seen as an important and politically popular and beneficial measure to support," he said.
Schoen described the survey results as "a strong endorsement … of the equity behind JCPA."
In Colorado, Reen said 79% of survey respondents thought big tech companies held too much power, 76% said big tech companies were bankrupting small media companies, and 79% said they feared that big tech companies were manipulating the news for their own gain.
"The survival of local news is vital to our local communities," Reen said. "And, frankly, that's not guaranteed."
Alyssa Choiniere is a writer and contributing editor. She is a reporter based in southwestern Pennsylvania and covers a variety of topics, including industry news and criminal justice.