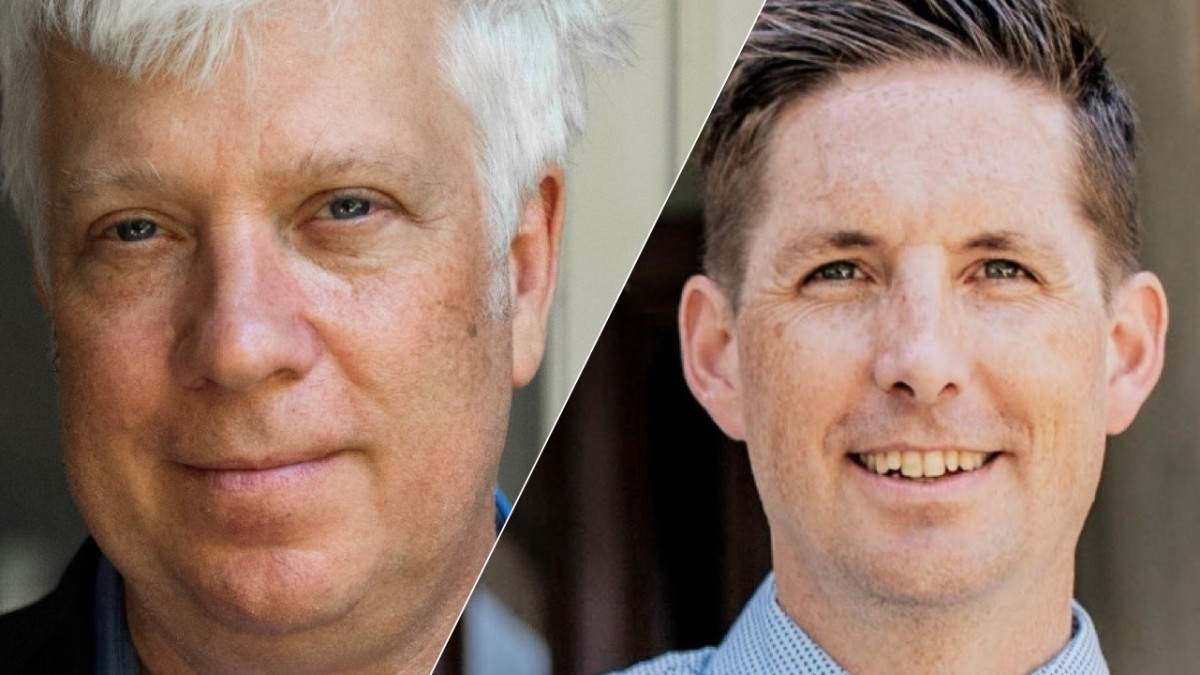 Directors appointed for ethics institute and media center
DePauw University has named new directors of the Janet Prindle Institute for Ethics and the Eugene S. Pulliam Center for Contemporary Media, the result of two national searches.
Jeffrey Dunn, associate professor of philosophy at DePauw, was named Phyllis W. Nicholas director of Prindle. JP Olsen, former director of original programming at HBO, takes over at the Pulliam center.
Dunn received his doctorate from the University of Massachusetts in 2010 and has taught at DePauw ever since. He is head of the philosophy department, a position he also held in 2019-20.
He has served as Secretary-Treasurer of the East Division of the American Philosophical Association since 2017. At DePauw, Dunn served as a judge for Prindle's High School Ethics Bowl and a counselor at Express CAMP, a summer day camp run by Prindle. He launched Prindle's Philosophy for Children program when he offered a winter course on the subject in 2017 and, two years later, partnered with Prindle to invite a leading scholar to campus to discuss from subject.
"I was thrilled when Jeff emerged from our national search, as I was impressed with his work at DePauw, where he is known for his inspiring classes, scholarship, and excellent administrative work," said Dave Berque, Vice President of Academic Affairs. . "Jeff will bring these skills and his in-depth knowledge of DePauw to this new role and I am confident his leadership will further strengthen the Prindle Institute."
Olsen has spent his entire career in media, most recently at HBO. From July 2015 to February 2021, he oversaw editorial content for VICE's programming, including a news magazine, documentaries, and a daily news show. Under his leadership, VICE programming has won 23 news and documentary Emmys, seven Peabody Awards, multiple Murrow and Overseas Press Club Awards, and citations from GLAAD and the National Association of Black Journalists. After VICE was canceled, he continued his studies with filmmaker and visual artist Sir Isaac Julien at the IJ Lab at the University of California, Santa Cruz.
He was previously a producer and writer for "Retro Report," a documentary series for the New York Times website, and a researcher, producer, co-producer, writer, and director for various PBS shows.
Olsen has served as a filmmaker in residence for the Ohio Wesleyan University and New York Arts Program Narrative and Documentary Film Seminar and has been a guest lecturer on documentary filmmaking at several universities.
Olsen, who has a master's degree in journalism from Columbia University, starts July 25.
"JP Olsen is going to make an ideal manager for the Pulliam Center," Berque said. "His deep knowledge of the industry, his previous experiences working with DePauw students in the New York arts program, and his commitment to collaborating with faculty and staff positions JP perfectly to build on the successes of the center as DePauw embarks on our strategic plan."