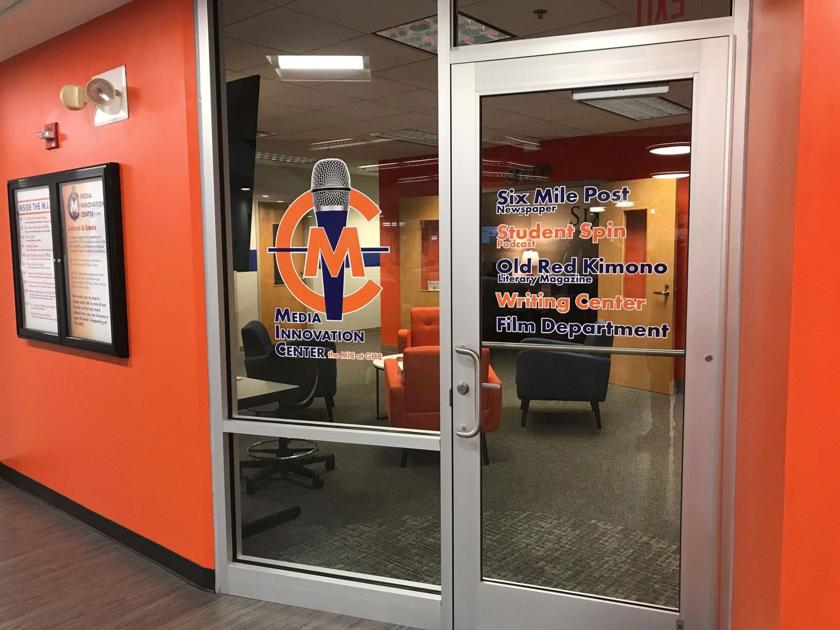 GHC opens new media center, 'the MIC' | Education
[ad_1]
Georgia Highlands College recently opened the college's new Media Innovation Center or "the MIC" on the Floyd campus.
The new area is home to space for the Six Mile Post student newspaper, the newspaper's Student Spin Podcast, the Old Red Kimono literary magazine, and the Floyd Campus Writing Center. The MIC also has a studio for GHC film programs.
The MIC opened its doors this fall in the David B. McCorkle building.
All students will have access to the MIC and can schedule a time to use industry standard technology and software to help with classroom and personal projects.
"We want to help students facilitate any media-related idea or project they are working on," said Acting Dean of Humanities Jessica Lindberg.
Six Mile Post and old red kimono
As the SMP grew in terms of connecting with students – online, in print, and through the Student Spin podcast – a renovated space was essential.
"This new space is very open, modern and technologically updated," said Allison Hattaway, SMP educational advisor. "I hope the new office layout will help students feel more comfortable so that they really feel like this is their space. "
The new space will also enable community engagement, providing a central location to observe the operations of the Six Mile Post, the Student Spin and the Old Red Kimono, which could lead to greater networking opportunities for students.
"We would eventually like to have guest speakers and local media representatives to watch the students work in this new collective space," Hattaway said.
Movie
Although the GHC Film Program just launched in fall 2020, students are already doing internships, including professional film production.
Through MIC and its film studio, School of Humanities President Seth Ingram said the college will be able to attract more film productions to the northwest Georgia region, creating more opportunities for students to gain practical experience.
Offering courses in film production and film studies, students can gain hands-on experience working with industry tools and equipment. In addition, students of all study programs will be able to arrange to have access to this equipment for their academic, professional and personal activities.
"The goal is to make the MIC an all-inclusive resource for our students, but one that will also house the Film program," Ingram said.
Writing center & collaboration
One of the missions of the MIC is to provide transversal assistance to students. As the new headquarters of the GHC Writing Center, students will have access to additional help to become more effective communicators.
Led by English instructor Shannan Harrington, the Writing Center will help students better approach writing assignments by guiding them through the areas of brainstorming, describing, researching, reviewing and reviewing. grammar.
"From start-up help in English to helping graduates with their cover letters and resumes, the writing center will help students with whatever they need in terms of writing help," Harrington said.
Hattaway said hosting these student publications alongside the Writing Center and Film Program would help give all students a chance to diversify and explore new opportunities on campus to grow as a student. students and as individuals.
"A lot of times students may think, 'I'm not a strong writer, so I don't belong in a journal,' or, 'I'm shy, so I don't belong in a podcast program,' Hattaway said. "We want all students to have a place at the MIC.
[ad_2]