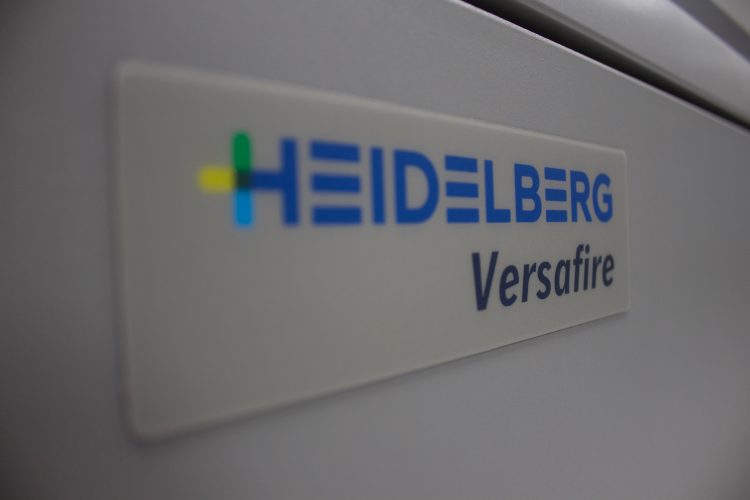 Heidelberg North America presents Versafire EV and EP at the Print Media Center in Atlanta
KENNESAW, Georgia – June 29, 2018 – With over 1,600 Versafire installations worldwide and growing, US Versafire customers were recently invited to the Print Media Center in Atlanta to learn more about from Heidelberg new digital presses: the Versafire EV and EP.
At the start of the day, customers received a comprehensive overview of key features and new updates for Versafire models. Demonstrations of Heidelberg's exclusive Prinect Digital Front End controller, the Versafire EV and EP, and the integration of digital and real-time offset production were available for customers, in addition to a session to discuss performance comparison digital and total cost of ownership.
"The event was very informative," said George Vargas, plant manager of Meridian Printing Inc located in East Greenwich, RI "I was impressed with the new features of these models. From what I had seen, the EV and EP are a very attractive offer.
Versafire EP – Safe, efficient and reliable production
Building on the success of the Versafire CP, the new Versafire EP offers offset-quality color and registration for environments exceeding 500,000 impressions per month at a much lower running cost than its digital competitors.
Printing up to 135 pages per minute, the Versafire EP can now handle substrates up to 470 gsm (24 pt) at lengths up to 27.5 inches. In addition, banner length papers up to 1260 mm (49.6˝) and up to 1030 mm (40.5˝) automatic duplex are possible. The Versafire EP has added new in-line sensors to allow the machine to automatically monitor color during the run, ensuring safe, efficient and reliable production.
Versafire EV – Extraordinary effects, high productivity
Delivering high-quality products, the 5-color Versafire EV delivers reliable, advanced production on substrates up to 27.5 inches. In addition to standard CMYK jobs, the engine expands the gamut with 5-color rendering using neon yellow or neon pink. Additionally, embellishments with fifth color options are available and include white, clear polish, neon yellow, neon pink, and the new invisible red. For the first time, customers can print on colored paper or transparent synthetics and produce extraordinary effects while printing white first, then processing CMYK colors on top, all in a single pass.
The new EV has expanded substrate capabilities, including metallic, colored or transparent substrates. Printing at speeds of up to 95 pages per minute, the Versafire EV offers a high level of productivity. Stability, accuracy and quality are also improved thanks to the new automatic online color management and online register.
"We have the Versafire CP and CV, and I was excited to hear what new features are offered in the new models," said Ralph Mondesando, vice president of Rose press located in Mount Vernon, NY "The online spectrophotometer is amazing – it's online and checks every color, which is crucial for us to print great quality. We're also excited about the new colors on offer. Each time a new version of the Versafire is created, it gets better and better.
The preceding press release was provided by a company not affiliated with Print impressions. The opinions expressed herein do not directly reflect the thoughts or opinions of Print impressions.