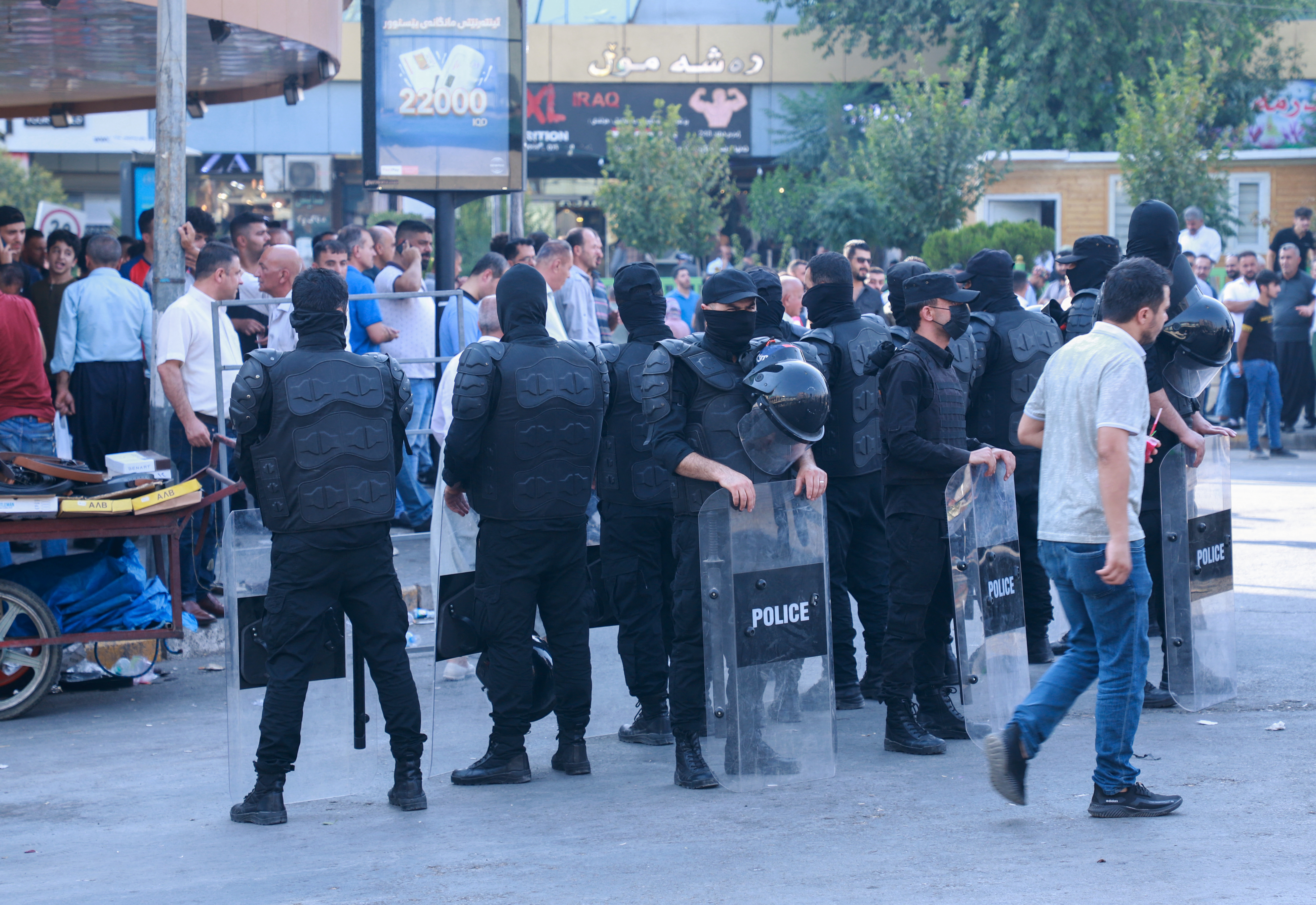 Iraqi Kurdish authorities detain, search and harass journalists and media covering protests
Beirut, August 9, 2022 – Authorities in Iraqi Kurdistan must immediately stop detaining and harassing journalists and media workers and allow them to report on political unrest freely and safely, the Committee for the Protection of journalists.
On August 5 and 6, Asayish security forces in several locations in Iraqi Kurdistan obstructed the work of at least 20 journalists and media workers with detentions, harassment, raids and the closure of at least one outlet, according to several reports. , local press freedom groups Kurdistan Journalists' Syndicate, the Metro Center for Journalists Rights and Advocacy, and the Association for the Defense of Press Freedom in Iraq, as well as several concerned journalists who spoke to CPJ .
All the journalists were covering or preparing to cover the August 6 protests by the opposition New Generation Movement party over taxes, fuel prices and job opportunities, the sources said.
"Authorities in Iraqi Kurdistan have hit a new low with their detention and harassment of journalists and media workers seeking to cover the civil unrest," said CPJ Middle East and North Africa Program Coordinator Sherif Mansour, in Washington, DC. "Iraqi Kurdistan was once a haven for the free press in the Middle East, but now the region is a leading perpetrator of press freedom violations.
On Friday August 5, the day before the protests, security forces arrested Taif Goran and Biryar Nerwayi, reporters for the private television channel NRT, outside the channel's office in the town of Duhok, in western Iraqi Kurdistan. , depending on the chain report. , and Goran, who spoke to CPJ on the phone. Goran told CPJ that "the security forces gave us no legal reason behind our arrest" and that the two men were released on bail after 27 hours in detention. Goran said the forces also confiscated equipment from the office, including five cameras, two livestream boxes, five microphones and two tripods, all of which were returned when the journalists were released.
NRT is owned by Kurdish businessman Shaswar Abdulwahid, leader of the New Generation movement, which has called for protests.
On Saturday, August 6, Asayish forces raided the private website and office of the Rast Media TV channel in the city of Duhok and shut it down without giving a reason, according to the channel's Facebook post and Omed Baroshky, director of Rast News, who spoke to CPJ on the phone. Baroshky told CPJ that "we have completed all the legal procedures to work freely as a media outlet, but they have asked us to shut it down and go home anyway." Since August 9, the office has remained closed.
On the same day at 10:00 a.m. in Erbil, the regional capital, five plainclothes security agents raided the home of Ayub Ali Warty, a journalist with the Kurdish News Network television channel, affiliated with the opposition Gorran party, and arrested the journalist, according to Warty, who spoke to CPJ by phone and posted the incident on Facebook. Officers escorted him to Asayish headquarters for investigation before releasing him at midnight, he said. Warty said he was verbally abused, but did not provide details of the insults.
"During the investigation I was told that if I wanted to live as a critical journalist, Erbil was not the right place," he said. He said he was forced to sign a blank paper without knowing the reason, and was told the paper "could put me in jail for 300 years". When he was released without charge, Warty said officers told him he was arrested "by mistake".
Also on Saturday in Erbil, NRT journalists Rizgar Kochar, Omed Chomani, and Hersh Qadir were arrested by plainclothes agents, according to two videos posted to Facebook by the broadcaster and Qadir, who told CPJ by phone that the agents also searched his home. . Qadir said they were stopped outside their office, and when they asked for the identity of the officers, "they pointed out that they were Asayish forces and that we had to go with them". He said the officers handed the journalists over to armed security forces who hooded them and took them to Asayish's headquarters in Erbil. He said he thought "the only reason was to prevent us from covering the protests". Qadir said the three men were released without charge after six hours and after being forced to sign documents without being allowed to read them.
Also on Saturday, NRT reporters Diyar Mohammed and Soran Mohammed and NRT cameraman Mahmoud Razgar were arrested by security forces while covering a protest in the town of Chamchamal, eastern Sulaymaniyah governorate. of Iraqi Kurdistan, according to a Facebook post from the broadcaster and Soran Mohammed. , who spoke to CPJ on the phone. Soran Mohammed told CPJ that security forces blocked the team's camera, ordered journalists to accompany them to their headquarters in the city, and seized their equipment, including two cameras, a tripod and two microphones. Officers told reporters they would remain in custody until the protests were dispersed, he said. The three men were released without charge three hours later, but officers kept their gear until Sunday, he said.
On the same day, in the city of Sulaymaniyah, a team from the independent news site Westga News, comprising editor-in-chief and owner Sirwan Gharib, photographer Zanyar Mariwan and editors Hevar Hiwa and Arkan Jabar, was arrested by armed forces. security while covering protests, according to a statement from Westga News and Gharib, who spoke to CPJ by phone. In the statement, Westga News said "the team was there to cover the protests in an impartial and professional manner, and their arrest is against the law and against freedom of the press." Gharib said the crew was held for nearly four hours before being released without charge.
In the same city on Saturday, Zhilya Ali, journalist for the private Internet television channel and the Diplomatic news site, was detained with outlet cameraman Azhi Abdulqadir as they exited a taxi when they arrived to cover a protest, Ali told CPJ by phone. In a Facebook post, Ali said the two were arrested and brought to Asayish's headquarters in order "to be prevented from covering the protests". Ali told CPJ that security forces confiscated her phone, which they returned to her after she and the cameraman were released without charge two hours later.
Also on Saturday, Hardi Osman, a reporter for the independent website Peregraph, was detained for five hours as he tried to cover protests in the city of Sulaymaniyah, according to a Tweeter by his employer and the journalist who spoke to CPJ on the phone. He said the forces took him to Asayish headquarters before transferring him to a section of the Kani Goma prison.
He said forces also seized his equipment, including his phone, microphone and a voice recorder, and forced him to fill out a form asking 'very personal questions' – details of which he did not provide. to CPJ – before he was released free of charge and without the equipment. He said he picked up the equipment from Asayish headquarters on Tuesday.
Also in the city of Sulaymaniyah on Saturday, Awder Omer, a video reporter for the NasKurd news site, was covering a protest live on the site's Facebook page when two members of the Asayish forces seized his phone and confiscated and broke his internet modem. mobile, he told CPJ by phone. "They told me to go away and not cover the protests," he said.
On the same day, in the town of Kalar, in the governorate of Sulaymaniyah, Mohammed Mahmood, a reporter for the independent broadcaster Radio Deng, was arrested by security forces while covering a demonstration and detained for five hours before being released. released without charge, according to a post on Facebook. by the radio station and Mahmood, who spoke to CPJ by phone.
Mahmood said security forces interrupted his Facebook Live reporting for Radio Deng and asked him to delete his footage. When he refused, he said they beat him in the legs and arms and took him to Asayish headquarters, where they asked him to sign a paper that they would not allow him to. read. When he again refused, he said they beat him again.
Also on Saturday in Sulaymaniyah, journalist Snur Karim and cameraman Mohammed Azad Majeed of the US Congress-funded Voice of America Kurdish were detained by Asayish security forces for two hours while covering a protest on Facebook Live to the news outlet, according to an email from Anna Morris, public relations manager for Voice of America, and a VOA statement provided to CPJ.
In the statement, VOA said the team received permission from local authorities to go there but were detained for "several hours". Their cellphones and microphone were seized and then returned, Morris said.
Morris told CPJ the two were taken to a prison where Karim was forced to sign a 'promise' without being allowed to read it and asked personal questions about her family, her car, her lifestyle. and his political opinions.
When contacted by CPJ via the messaging app to comment on the alleged arrests, raids, closures, and beatings, Asayish security force spokesperson in Sulaymaniyah Governorate, Yasin Sami , directed CPJ to a Facebook post from the Sulaymaniyah Security Directorate, a committee representing local government, police and Asayish forces, denying the arrests. CPJ called Duhok Asayish director Zeravan Baroshku, who said security forces were acting on a "court order," but declined to comment further. CPJ also reached out to Erbil Asayish's spokesperson, Ashti Majeed, for comment via the messaging app and a phone call, but received no response.