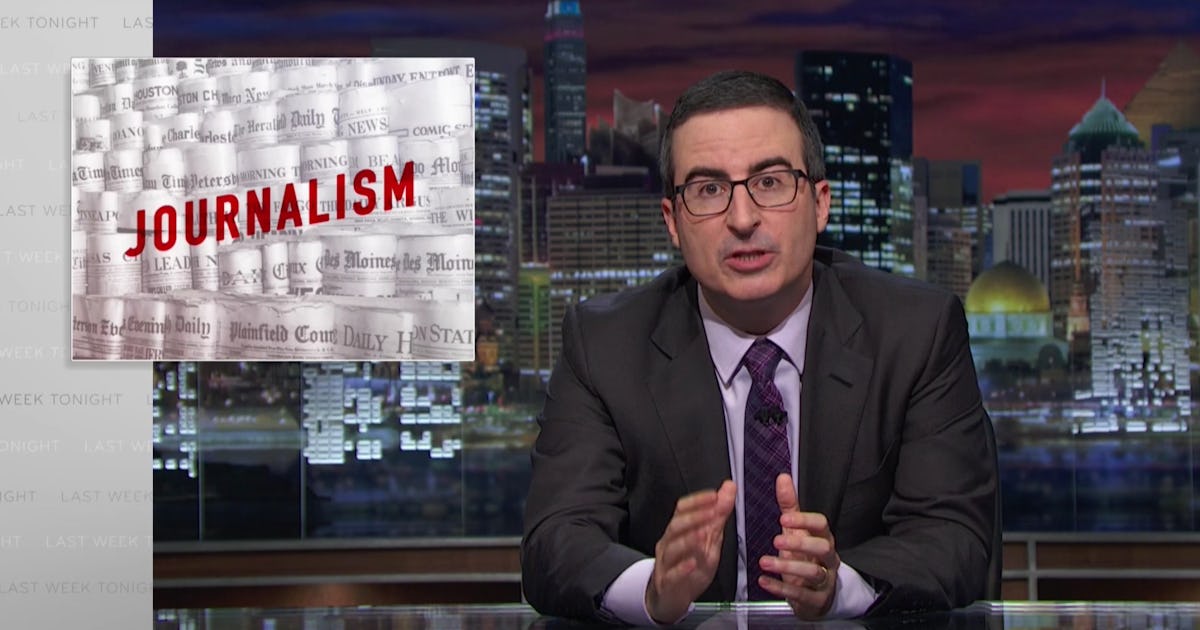 John Oliver Shines the Spotlight on Print Media on 'Last Week Tongiht'
[ad_1]
John Oliver wants you to know that there is more to journalism than raccoons that look like cats. Despite Oliver protests, he has been described several times as a journalist by the media, but on Last week tonight On Sunday evening, Oliver highlighted the important work of real journalists.
Oliver is no stranger to the crucial revelations uncovered by the local print media. Last week tonight cited the work of Harry Esteve, journalist at Oregonian, in a popular episode on the Oregon Lottery. Esteve discovered how the lottery took money from problem gamblers, despite the organization's cheerful branding. doing only "good things". Without Esteve, the story might never have reached the national media, which operates on a "channel" that so often begins with local print news.
Projector, a powerful film about Boston Globeto denounce child abuse, won the Oscar for best film in 2016. Projector so powerful is knowledge that the newspaper industry is in dire straits, "said Oliver.
Pew Research Center figures showed that from 2003 to 2014, the number of full-time reporters in the State Chamber declined by 35%. In a clip aired on the show, David Simon, creator of the HBO show Thread and an elder Baltimore Sun journalist, underlined the role played by the local written press in exposing corruption.
"The day I come across a Huffington Post reporter for a Baltimore zoning hearing is the day that I'll be confident we've actually struck some kind of balance, "Simon said. "The next 10 to 15 years are going to be a halcyon era for state and local political corruption. It will be one of the best times to be a corrupt politician. I really, really envy them.
The switch to online media has not succeeded in offsetting the drop in print revenues: over the period 2004-2014, Pew Research Center found that newspapers earned $ 2 billion in online advertising revenue, but lost $ 30 billion in print revenue over the same period. One outlet hit hard by the contraction was Oregonian, who was forced to make redundancies including Esteve.
The response from some in the industry has been troubling. Sam Zell, who previously held a controlling stake in the Tribune Company, was seen in a video clip describing to a Tribune reporter belonging to Orlando Sentry its exit priorities. It ended with Zell saying "fuck you".
"Sooner or later we'll have to pay for journalism, or we'll pay for it," Oliver said.
[ad_2]