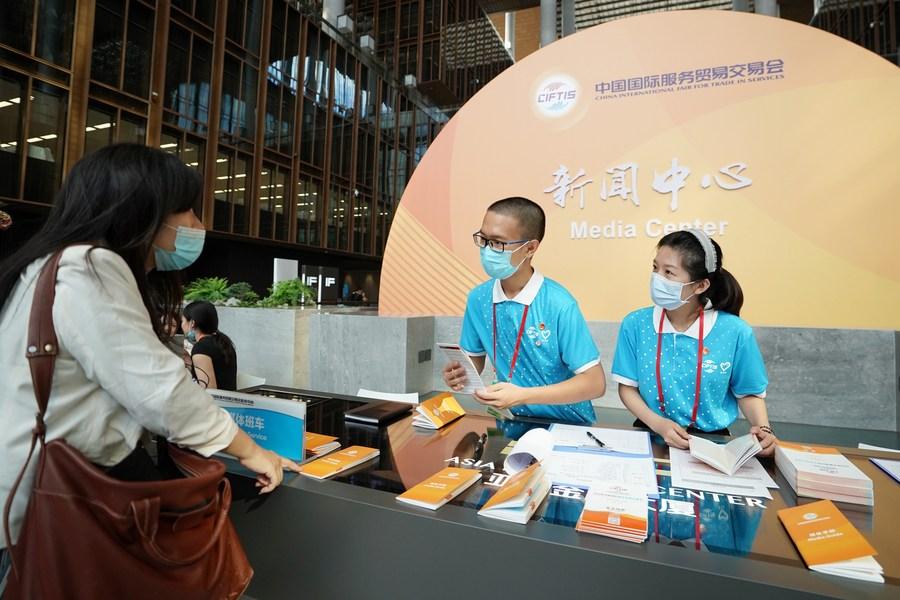 Media center ready for the China International Trade Fair in Services (CIFTIS)
[ad_1]
Volunteers chat with a reporter at the media center of the China International Trade Fair in Services (CIFTIS) in Beijing, capital of China, September 3, 2020 (Xinhua / Ju Huanzong)
The media center of the China International Services Trade Fair (CIFTIS) began testing operations on Thursday.
The China International Trade Fair in Services (CIFTIS) to be held September 4-9 in Beijing is the first major international economic and trade event held offline in China since the start of the COVID-19 pandemic.
China's accelerated development of trade in services will provide a huge market and rich opportunities for cooperation for countries around the world, and spur global economic recovery as the pandemic has taken a heavy toll on the global economy, said officials. analysts and academics.
Journalists work at the media center of the China International Trade in Services Fair (CIFTIS) in Beijing, capital of China, September 3, 2020 (Xinhua / Ju Huanzong)
Journalists work at the media center of the China International Trade in Services Fair (CIFTIS) in Beijing, capital of China, September 3, 2020 (Xinhua / Pan Siwei)
Journalists work at the media center of the China International Trade in Services Fair (CIFTIS) in Beijing, capital of China, September 3, 2020 (Xinhua / Ju Huanzong)
A reporter checks in at the media reception center of the China International Services Trade Fair (CIFTIS) media center in Beijing, capital of China, September 3, 2020 (Xinhua / Li Muzi)
Journalists work at the media center of the China International Trade in Services Fair (CIFTIS) in Beijing, capital of China, September 3, 2020 (Xinhua / Ju Huanzong)
Journalists work at the media center of the China International Trade in Services Fair (CIFTIS) in Beijing, capital of China, September 3, 2020 (Xinhua / Li Muzi)
Journalists work at the media center of the China International Trade in Services Fair (CIFTIS) in Beijing, capital of China, September 3, 2020 (Xinhua / Lu Peng)
Journalists work at the media center of the China International Trade in Services Fair (CIFTIS) in Beijing, capital of China, September 3, 2020 (Xinhua / Li Muzi)
Photo taken on September 3, 2020 shows a cultural exhibition booth at the media center of the China International Services Trade Fair (CIFTIS) in Beijing, capital of China. (Xinhua / Li Muzi)
Volunteers work at the media center of the China International Trade Fair in Services (CIFTIS) in Beijing, capital of China, September 3, 2020 (Xinhua / Li Muzi)
A reporter works at the media center of the China International Trade in Services Fair (CIFTIS) in Beijing, capital of China, September 3, 2020 (Xinhua / Li Muzi)
Journalists work at the media center of the China International Trade in Services Fair (CIFTIS) in Beijing, capital of China, September 3, 2020 (Xinhua / Li Muzi)
[ad_2]