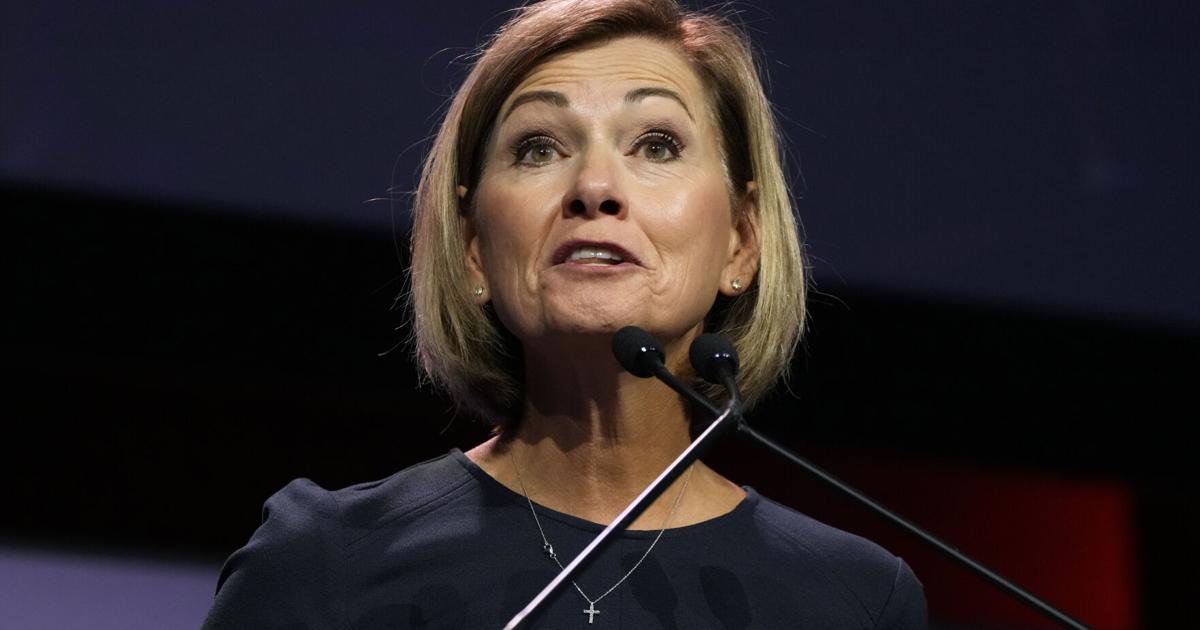 Media Sues Reynolds Over Public Records |
DES MOINES — Iowa Capital Dispatch sued Gov. Kim Reynolds and other members of her office in state court Thursday for their repeated failure to respond to public information requests.
He joins the Iowa Freedom of Information Council and Bleeding Heartland, a progressive online political news and commentary site, in a lawsuit that asks a judge to declare that Reynolds and his staff violated the Open Records Act of the Iowa. State and to compel a response to such requests. The lawsuit, filed by the ACLU of Iowa, also seeks a court order requiring the governor's office to comply with future demands and reimbursement of legal fees.
"We joined this petition because we believe that the people of Iowa have a right to accurate and detailed information about the actions and functions of their state government," said Iowa Editor Kathie Obradovich. Capital Dispatch. "By failing to comply with Iowa's open meetings and records law, the governor's office has deprived Iowa of public interest information about how the governor conducts state government and uses state resources.
Specifically, Capital Dispatch deputy editor Clark Kauffman has been searching since April for documents relating to a dinner with Reynolds at the governor's mansion that was auctioned off to raise money for Des Moines Christian School, but no documents. was provided, according to the lawsuit.
Kauffman also requested written communications between the former manager of the Iowa Veteran's Home and the governor's staff that discuss the more than $100,000 in improper salaries the former manager was allegedly paid. The lawsuit alleges that the governor's office provided some, but not all, of those communications that are the subject of Kauffman's request, which he originally made in May.
"The governor's office is setting an example for other state agencies, several of which have also failed to comply with the state open archives law," Obradovich said. "We need to change this culture of state government that prefers to hide rather than share public records and operate in secrecy rather than transparency."
Iowa law gives government officials a "good faith and reasonable time" when responding to requests for records, which generally must occur within 20 days. The law does not list a time limit required for the actual production of these documents.
"We're really long past the point where any kind of delay could be considered reasonable," said Rita Bettis Austen, chief legal officer for the ACLU of Iowa.
She said the case dealt with a total of 45 requests and renewed requests for public information.
The governor's spokesman did not immediately respond to a request for comment.
Reynolds' attorneys argued in their defense of other open lawsuits that she had been too busy during the pandemic to respond quickly to such requests, court records show. That litigation was initiated in August by a Utah attorney who requested information in March about the state's contracts for COVID-19 testing. After the two lawsuits were filed — one for each claim that had not been satisfied — the governor's office provided the information and decided to dismiss the lawsuit this month. The case is pending.
Laura Belin, the publisher of Bleeding Heartland, said she had been looking for copies of video messages Reynolds may have recorded during the first weeks of the pandemic for meatpacking employees, communications that made pressure on Reynolds over certain legislation and documents relating to the Governor's private use. Chateau.
"By blocking my requests for records for over a year, the governor's office has withheld information on matters of clear public interest," Belin said.
Randy Evans, executive director of the Iowa Freedom of Information Council, searched unsuccessfully for documents regarding the deployment of Iowa State Patrol employees to assist with border security in Texas l 'last summer.
Board members include many prominent Iowa media organizations and others. The council successfully sued the Polk County Sheriff's Office in 2019 for records related to a fatal shooting in Altoona.
"The governor's refusal for a year and a half to act on the demands of many people is very troubling," Evans said. "She and her staff have deprived the citizens of Iowa of the records and information to which they are entitled to assess her work as Iowa's chief executive."
The new lawsuit was filed Thursday morning in Polk County. His defendants are Reynolds and Michael Boal, his senior legal counsel, Pat Garrett, his former director of communications, and Alex Murphy, his current director of communications.