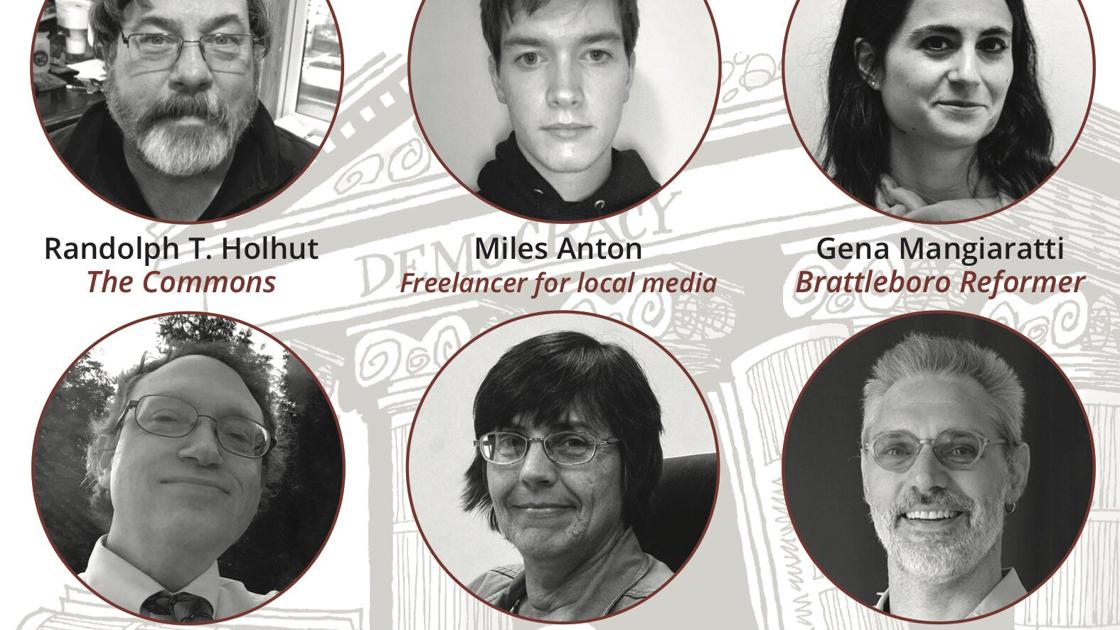 Newspapers, media focus of the Gallery Walk discussion | Local News
BRATTLEBORO – A multimedia exhibit celebrating publishing in Brattleboro kicked off on Friday with a forum featuring a discussion of the current state of newspapers.
"Brattleboro has been lucky," said Randy Holhut, associate editor of The Commons, a nonprofit weekly published in the city since 2006. "You don't know how close this town came to being. newspaper. "
In 2016, a group of investors based in the Berkshires, western Massachusetts, bought the Reformer from Digital First Media, which was itself controlled by Alden Capital, a hedge fund described by Vanity Fair as "a vampire. which bleeds the newspapers blank ".
The partnership, New England Newspapers Inc., acquired the Reformer, Bennington Banner, Manchester Journal and its flagship product, The Berkshire Eagle, in Pittsfield, Mass., And stabilized the four newspapers after years of cuts that have resulted in decreased coverage. Earlier this year, Paul Belogour, a software entrepreneur who moved to the area from Boston in 2008, purchased the three southern Vermont properties under the umbrella of Vermont News and Media.
Jeff Potter, editor of The Commons, said this area "is just a fantastic place to produce a journal. There is no better place than Brattleboro to get all of the problems we face socially, economically and politically. It is a small town while being social.
He also noted, "with the highest degree of respect and appreciation for voices that are somewhat out of the ordinary", the region is populated by a disproportionate number of "fascinating bizarre".
"One Town, Many Voices: News and Book Publishing in Brattleboro Over Time," at 118 Elliot Street, is inspired by the new book "Print Town: Brattleboro's Legacy of Words," a look at Brattleboro's long history and continuing legacy of printing and editing, plus audio story scores created by community members for the all-new Brattleboro Words Trail.
The exhibit was curated by Rolf Parker, Jacqueline Hooper and Lissa Weinmann, and features portraits and headers from Brattleboro's first newspaper – "Federal Galaxy" by Benjamin Smead. The history of Brattleboro includes Clarina Howard Nichols, one of the nation's earliest newspaper editors, and Howard C. Rice, who began publishing the Reformer as a daily in 1913 since its inception as a weekly in 1876. .
The exhibit also celebrates the 15-year history of The Commons, one of the first weekly newspapers in the United States to adopt a non-profit model.
Chris Lenois, former host of Green Mountain Mornings on WTSA and current president of Brattleboro Community Television, moderated the Friday night forum, which was part of Gallery Walk.
Lenois, who got his start in journalism writing sports reports for the Reformer, grew up in Vernon and attended Brattleboro Union High School.
"I'm just a news junkie," he said. "I appreciate the coverage we have here in this community and the blessings of two print media, community radio and community television. It is really important that we continue to support all of these entities.
Along with Holhut and Potter, the panel included Melanie Winters, editor-in-chief of The Reformer, Gena Mangiaratti, arts and entertainment editor-in-chief for Vermont News and Media, and Miles Anton, high school student and aspiring journalist who hosts, along with Jonah Bingham, Climax Hour radio show on WVEW, Brattleboro's community radio station.
"Journalism has to be an institution," said Anton, especially at a time when it is becoming increasingly difficult to discern opinion from fact.
Holhut, who came to Brattleboro in 1989 to work for Norm Runnion at the Reformer and then left for The Commons in 2010, said he came to town when the Reformer had around 100 people working there, with an office in Bellows Falls, five reporters in Brattleboro and a proofreader.
Everything changed with the advent of the Internet and hedge funds to maximize profits.
"So many newspapers are owned by financial interests that have no absolute interest in journalism," Holhut said.
"Brattleboro is lucky to have two newspapers," said Winters, who got her first journalism job in 1989, which she called the "end of the heyday" of newspapers before the arrival of Internet and hedge funds.
"We have challenges," she said. "Part of this is that we have to do a better job of letting people know that they need us. Studies have shown that communities with newspapers… have greater civic involvement, less corruption, lower taxes, and better bond ratings.
And while the internet has increased the amount of information available to the public, Holhut said, it has also increased the amount of disinformation.
"There have always been cranks and idiots and people pushing things," he said. "The problem is, it's faster now. A little misinformation can go around the world before you find out it's wrong.
He said newspapers and other traditional media sources can serve as news curators, to filter out disinformation.
"Online it's like a fire hose," Holhut said. "A newspaper helps turn down the tap so you can drink without breaking your teeth. "
"An essential part of the process is fact-checking," Potter said, adding that it is also the responsibility of a newspaper to sort out disinformation and agenda-driven news.
For example, he struggled to present an event presented as information about the ill effects of Critical Race Theory, which Potter says has been "militarized" as right-wing propaganda.
Instead of just releasing the press release as it was submitted to The Commons, Potter included information from the Brookings Institute and Media Matters to explain exactly what Critical Race Theory is.
"It's not about trying to force a different opinion," he said. "It means there are lines in the sand. If that's just not true, I don't put it in the journal. It has nothing to do with your position on the political spectrum. "
Mangiaratti said social media is both a boon and a bane for newspapers.
"It can be very helpful," she said. "It's a good way for me to communicate with people. "
It also allows it to disseminate information about events and arts and entertainment on the Internet while focusing on in-depth stories for the print edition.
"I try to focus on the human stories," she said. "I talk to them and find out what motivates them. "
Friday's conversation was recorded by BCTV. To view the conversation, click here.