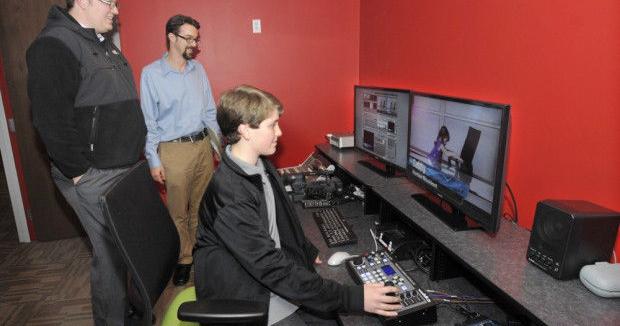 Norton Cable unveils its multimedia center | Local News
NORTON – For the past decade, the Norton Media Center has been tucked away in a corner of the high school.
But the center recently started a new chapter, opening the doors to a new 3,500 square foot facility at 184 West Main St. of its own.
"For us, going from the corner of the high school to this facility allows us to do so much more for the community," said Victor Rodriguez, chairman of the board of Norton Cable Access. "It's spectacular, really."
Executive Director Jason Benjamin said the space at the high school was about 1,000 square feet. The new space is more open and accessible to the public.
Benjamin said the entire facility, from the studio and editing suites to the boardroom, is open to the public.
"Local communities can meet here for free, the Norton Singers hold auditions here," he said. "We try to bring the community here."
Benjamin said the group is funded by Comcast, and renovating the space to house the media center cost about $150,000.
"We are privately funded, but have a public benefit," he said. "It's the best of both worlds."
In addition to unveiling the new facility, Norton Cable Access also provided community grants to Norton Public Library and Norton Middle School.
Benjamin said they have two grant cycles — one in the spring and one in the fall — and give out $15,000 a year in grants.
Library manager Lee Parker accepted the check for $5,583 and said he purchased 15 larger and wider monitors for the library's public access computers and several databases that will allow residents to download legally free music, to learn languages ​​and to have access to CV and journal writing tools.
This is the fourth grant the library has received from Norton Cable Access.
"Norton Media Center and Norton Cable have been very good to us. They have made all the difference," she said. "It's been amazing."
Mike Kramer, a teacher at Norton Middle School, accepted a check for $2,460 for additional equipment for the school's broadcast studio.
Kramer said they were able to set up the studio with previous grants from Norton Cable Access, and students could stream a live news program every Friday out of the studio.
With the additional funds, they will be able to start broadcasting live basketball games.
"Things like this can't be done without support like this," he said. "At the end of the day, they provide opportunities for children."