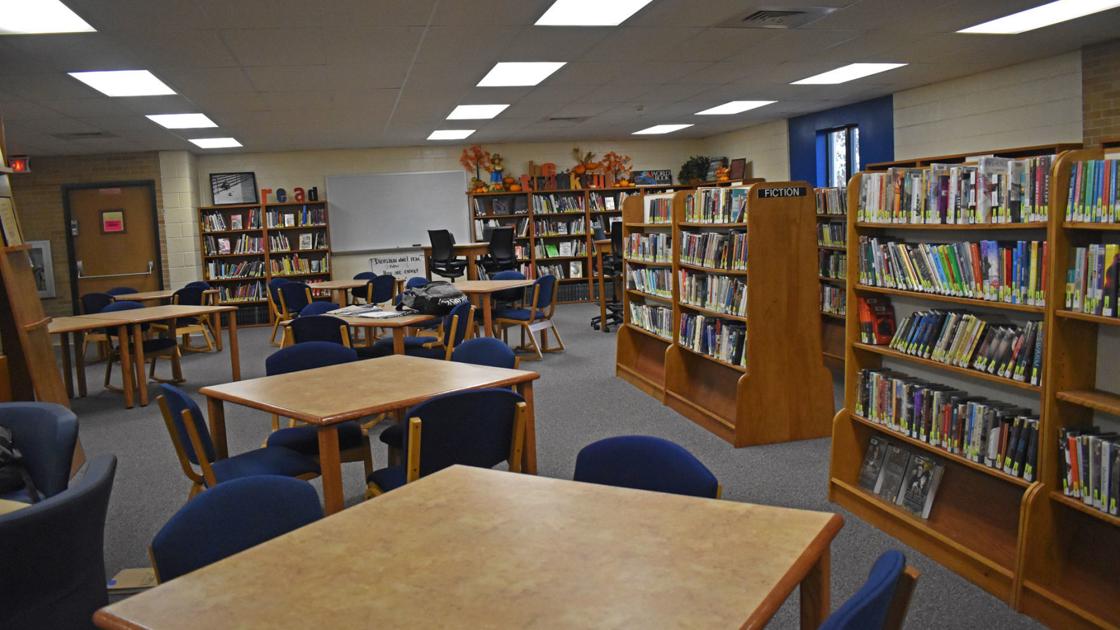 Scotus Central Media Center gets a makeover | Local
[ad_1]
The generosity of community members has helped revitalize the media center at Scotus Central Catholic High School.
"It's a lot more organized," said Claire Rickert, an eighth-grade student at Scotus Central Catholic High School, 1554, 18th Ave. "And now they have a white board on the back to help you study."
Claire said she spent most of her time at the Media Center – which also serves as the school's library – between classes working on projects in the computer lab and studying with her friends.
Overall, Rickert said the new look made the space more comfortable for students. Eighth grade Brennen Jelinek strongly agrees.
"It's a big difference," said Brennen, who enjoys spending time in the centre's computer lab and consulting books. "We feel more at home. "
These are the reactions for which Cathy Podliska, specialist of the Media Center, tried to present the idea to the Scotus Board of Education. Officials managed to raise around $ 34,000 at the school's masquerade gala held in April for the renovation project, which exceeded their goal of $ 25,000.
"The idea was to open up (the space) more for students," Podliska said.
Podliska and a team of students started working on the space at the end of the previous school year and are still organizing new books. Podliska said she hopes to set up a projector and install OverDrive, an online source for e-books and audiobooks from local public libraries, by January.
Thanks to donations, old furniture was replaced, walls were repainted, overhead lights were replaced with light-emitting diodes (LEDs) – which made the space brighter – and additional meeting space surrounded by blinds glass was built.
Since then, Podliska said the additional room has become relatively popular among students and staff for meetings, speaking exercises and making video recordings.
The group replaced several metal shelves with new wooden shelves. Because those dated shelves take up a lot of space, Podliska said it makes the space much smaller than it is.
"I think it's a more welcoming environment (now)," she said.
However, the furniture removed from the center was not wasted. Podliska said much of the furniture found new homes in different departments of the school and some were taken home by staff for personal use. The older books were recycled, donated to elementary schools in the area and reused as decorations.
Podliska also noted his idea of ​​presenting students with an after-school art project using old books.
"We tried to reuse as much as possible rather than just sending it to landfill," Podliska said.
Podliska said community members can always donate to the Media Center, adding that it is an important space for students to gather additional information outside of classrooms. Those interested in learning more are encouraged to call the school at 402-564-7165.
"There are always things we wish for," she said.
Natasya Ong is a reporter for The Columbus Telegram. Contact her by email at [email protected]
[ad_2]