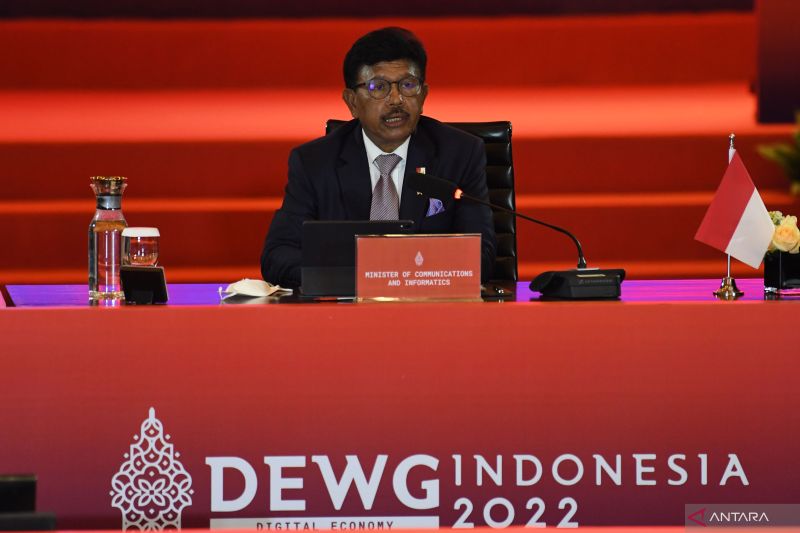 The Ministry of Communication prepares the media center for the G20 summit
We also prepare the press release, bulletin and press briefing, so that the media can easily get (information)
Jakarta (ANTARA) – The Ministry of Communication and Information Technology has prepared a media center for journalists covering the G20 summit conference in Bali in November.
"The media center will be operational from November 13 to 17, 2022," director general of information and communication at the ministry, Usman Kansong, said Monday during a webinar on the coverage mechanism of the G20 summit.
The G20 is an international forum of 19 countries and the European Union working together to address big issues. Indonesia holds the presidency of the grouping this year.
Related News: Indonesian and Dutch foreign ministers discuss G20 summit preparations
The G20 Summit Media Center which the ministry has prepared is located at the Westin Resort & BICC, Nusa Dua, Bali. This room can be occupied by 1,500 journalists, nationals and foreigners.
The multimedia center is equipped with 96 computers connected to the LAN Internet network which offers a speed of 1.5 gigabytes per second.
Other facilities include a press conference room, with a capacity of 443 people, interpreters in five languages, a break room and a photocopying service.
The Ministry, as responsible for public communication, will make a press release in two languages, English and Indonesian, as well as own photos and videos that can be used by TV channels to broadcast content .
"We are also preparing the press release, bulletin and press briefing, so that the media can easily get (information)," Kansong said.
Related News: G20 TIIWG Discusses Draft Ministerial Declaration for Economic Recovery
In addition to a working room for journalists, the ministry provides transportation in the form of a shuttle service from outside the conference area to the G20 Summit media center.
Journalists, both domestic and foreign, who wish to cover the G20 summit in Bali from November 15 to 17, can register on the official G20 website. Registrations are open from September 5 to October 10, 2022.
After registering, journalists can pick up the G20 Summit Special Coverage Card at Courtyard Bali Seminyak Resort, Badung, Bali. A swab antigen test result will be required by the department upon retrieval of the coverage map.
On Tuesday, the ministry recorded that 750 journalists from 156 outlets had already registered to cover the G20 summit in Bali.
These journalists include 203 journalists from 45 national media and 547 journalists from 111 foreign media.
Related News: G20 Summit: Ministry Prepares Facilities to Support Media Coverage
Related news: Indonesia helps strengthen global health infrastructure: Marsudi