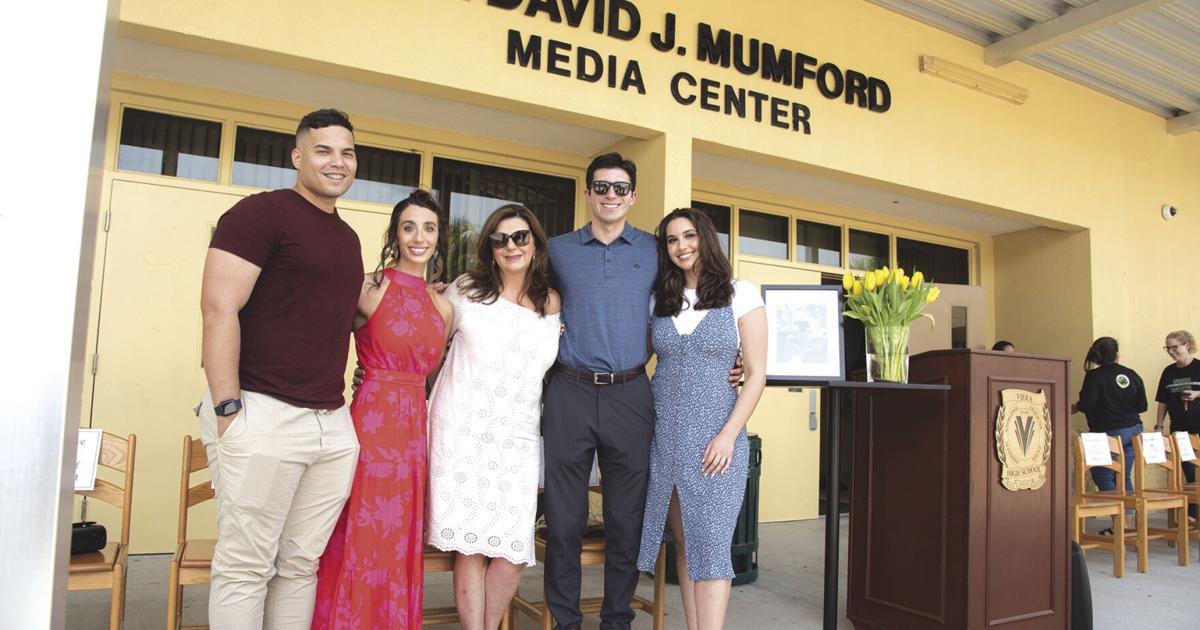 Viera High School Dedicates Media Center to Dr. David J. Mumford | Schools
David Mumford, an English teacher at Viera High School, has impacted more young lives than he ever imagined.
The legacy he created during 14 years at school, and during a 40-year teaching career, will be perpetuated forever by his students, by his three children… and by the media library of the school, which now bears his name.
Viera held a ceremony last month to announce the grand opening of the Dr. David J. Mumford Media Center in honor of the teacher, who died May 24, 2021 after a battle with cancer.
"I thought it was really fantastic," said Mumford's 24-year-old daughter Jacquie. "My father, his whole thing was to make a difference with his students. It was his passion. That's what he liked. He loved to read. He loved to write. He loved to teach. I think it's a wonderful way to honor him.
Viera High principal Sarah Robinson, who helped ensure the center was renamed in honor of Mumford, said the impression the teacher made on her students and school staff was clear.
"Dr. Mumford challenged students and successfully got them to connect with literature and books in a way that inspired them," Robinson wrote in an email. "Being a published author, he often cultivated a love of reading in his students.
"At the start of the 2020-2021 school year, many staff were worried about returning to work in a global pandemic. Dr. Mumford, while undergoing cancer treatments, returned to work and worked tirelessly. Every day we had to push him in a wheelchair to his classroom so he could get there each morning, but that never deterred his positive attitude or his ability to communicate with his students.
"His tireless devotion to his students, even in his last months of life, continues to amaze me and show the true character of the man he is."
The last time Robinson spoke with Mumford in person, he raised the possibility of naming the media center after him "because he always wanted to know he had an impact somewhere."
Robinson said she shared the request with staff, students, parents and the community and all responses were positive.
Mumford's son, Daniel, wrote a memo to the Brevard school board in December telling them what kind of person his father was.
"I consider myself the luckiest child in the world to have grown up with someone I could look up to and inspire every day," wrote Daniel Mumford. "Even though I admired my father, I like to think that he admired us just as much.
"My dad lived every day to the fullest and there was never a moment when I didn't surprise him with a smile. His energy was contagious amongst all of us and his smile lit up the room wherever he went.
Marianne Mumford Poma said the best story her father ever wrote was actually the one he lived through and became "a hero of his own story in a cloak of bravery" through his fight against the cancer.
He was a hero to his children and his wife, and he treated each student "as his own, with the same confidence in them for their future that he had for his three children." It lit up when a student told him about something he had accomplished or when he came to him for help or advice.
"…His students could tell he really cared about him. I still have old high school classmates telling me how much they loved my dad and this is almost 15 years later. He helped students not only find their way through the reading of Shakespeare, but he helped them find their courage, their confidence and their smiles.
After the Brevard School Board approved the name change, the Mumford family received a photo from the media center with David Mumford's name on it. His wife Rosana is moved to tears.
"I guess every teacher, every professor, every educator doubts what they're doing really matters because you don't know the outcome," Rosana Mumford said. "You plant a tree and you leave the country and you don't know if that tree has taken over.
"That's how Dave felt. He taught college for years. He has taught abroad, on four different continents. He never knew the impact he had on the lives of students. Obviously he had a lot of impact…his name is on that building now.
"I wish he were here to see that.