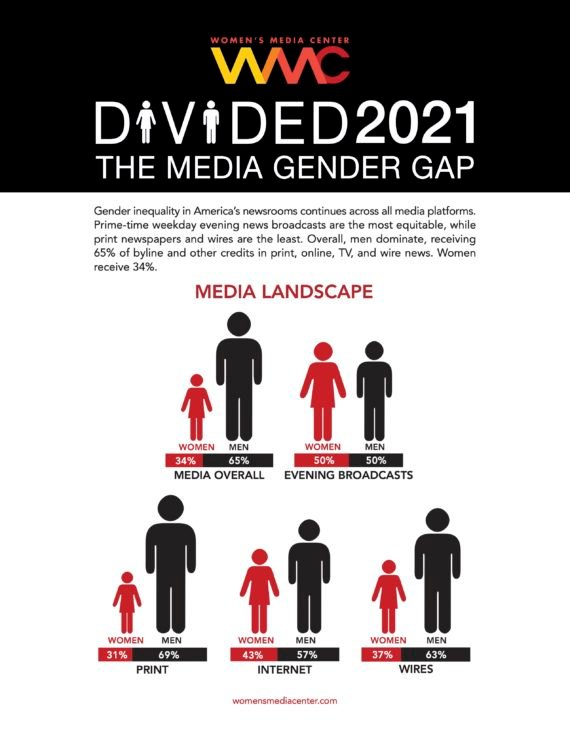 Women's Media Center study: men report the news overwhelmingly in 2021
[ad_1]
Press release | Women's Media Center
Gender inequality in US newsrooms continues across all media platforms, as men overall receive 65% of signatures and news credits and women 34%, according to the latest "Divided 2021 : The Media Gender Gap "from the Women's Media Center.
WMC researchers analyzed 62,002 content from January 1 to March 31 for 30 media across four platforms: print newspapers, online news, broadcast network and cable TV news, and news services in the United States.
According to the study, prime-time evening news shows are the most fair, while print newspapers and feeds are the least:
69% of printed newspapers are written by men; 31% is written by women.
63% of newswire signatures (AP and Reuters) are hung by men; 37% by women.
57% of online news is written by men; 43% by women.
50% of the presenters and correspondents of weekday evening TV news (cable and network) are men; 50% are women.
"The Women's Media Center has discovered that at this time of writing, men are still dominating when reporting the news," said Julie Burton, President and CEO of the Women's Media Center. "Women make up more than half of the population, yet men tell most of the stories. As a result, the news media misses out on important stories, important readers and viewers, and important perspectives. The gender gap is real. We hope the industry will take this into account and implement significant changes. "
Research has found that news shows that are anchored or hosted by women tend to have more reporting by women than shows that are anchored or hosted by men. MSNBC, PBS, CBS and CNN all had more than 50% female:
MSNBC's "The ReidOut" with host Joy Reid: 70% female, 30% male.
PBS "NewsHour", where Judy Woodruff is presenter and editor-in-chief: 66% female, 34% male.
CBS "Evening News", where Norah O'Donnell is the presenter and editor: 61% female, 39% male.
CNN's "Erin Burnett OutFront": 53% female, 47% male.
The exception is "The Story" by Fox News, with host Martha MacCallum: 39% female; 61% men.
Of the seven news shows, ABC's World News Tonight, hosted by David Muir, had the fewest women at 28%.
"We are encouraged by the encouraging figures in this report regarding the information released," said WMC Board Chair Janet Dewart Bell. "Yet there is so much work to be done if we are to achieve true equality and inclusion in the media. Everyone wins when media executives expand the possibilities to include women as sources, presenters, hosts, correspondents and in all news positions.
News organizations must be held accountable for persistent disparities and inequalities in the media, said Gloria Steinem, co-founder of the WMC. "Women must be visible and powerful in all aspects of the media for American society to ever be a true democracy. "
WMC's analysis also found that in the print media industry, none of the 14 news organizations examined had achieved gender parity in author credits. The biggest gender gap was at the Atlanta Journal-Constitution, where men wrote 84% and women 16% of news articles. The narrowest gaps were at The New York Times and The Washington Post, where, for each, men wrote 59% and women 41% of the articles, and USA Today with 61% men and 39% women.
Of the seven Internet news sites examined, the largest gender gap was that of MSNBC, where men wrote 88% of the articles and women wrote 12%. The narrowest gap was at Vox, where women wrote 50%, men 47%, and non-binary journalists wrote 3% of the articles. Women had more signatures than men on CNN.com, HuffPost and Vox.
In an extraordinary year of news and media coverage – on COVID-19, race, politics, media and other critical concerns – men have also dominated on these topics:
63% of electoral coverage was carried out by men; 37% by women.
59% of international and political media coverage was done by men; 41% by women.
54% of COVID-19 coverage was by men; 46% by women.
53% of racial justice coverage was by men; 47% by women.
50% of social justice coverage was provided by men; 50% by women.
In addition, men dominate coverage of sports, weather, law, opinion and editorials, business and economics, and science and the environment.
The research "Divided 2021: The Media Gender Gap" was conducted by WMC Media Lab and Lake Research Partners. For the first time, cable TV news has been included in this regular WMC analysis. WMC, which produced six previous Divided reports, changed its search period from September 1 to November 30 of the previous year to the start of the research publication year. He also adjusted the list of newspapers printed to reflect changes in circulation figures and to include newsrooms in areas of the country that had not previously been examined in Divided reports. The content included articles of at least 500 words and TV news transcripts. For the full methodology, click here.
The Women's Media Center, co-founded by Jane Fonda, Robin Morgan and Gloria Steinem, is an inclusive feminist organization that strives to increase the visibility, sustainability and decision-making power of women and girls in the media to ensure that their stories are told and their voices are heard. We do this by performing media research through the WMC Media Lab; create and model original online and on-air journalism; train women and girls to be effective in the media; and promote women experts in all fields through WMC SheSource.
WMC's online and live journalism channels include the award-winning podcast and radio show WMC Live with Robin Morgan, WMC Features, WMC Women Under Siege, WMC FBomb, WMC IDAR / E, WMC Climate and WMC Speech Project.
Click here for the report "WMC Divided 2021: The Media Gender Gap".
[ad_2]